Call Now! 440-341-7723
---
Chair Covers | Ceiling Drapings | Flowers | Invitations | Guests | Photographer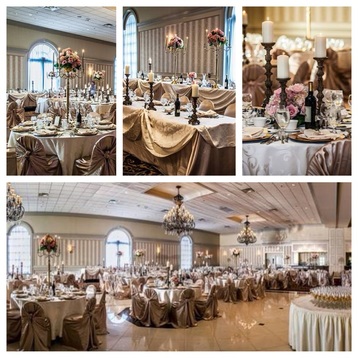 Flowers, invitations, guests, cake, photographer, what now? Oh right, everything else! We pride ourselves in our fine selection of table linens, but we believe that the tables and chair covers are only half the battle. We want you to have everything you need to make your day especially wonderful.

Linens are meant to compliment that which is already grand. Bring out the best in the most important parts of your fine event. We have all manner of elegant additions for your tables, as well as an elegant cover ensembles just for your chairs.

Exceptional Beauty
Impeccable Elegance
Unbeatable Prices
You deserve it,
We offer it!
---
Charity and Fundraising Events
---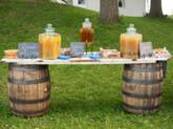 Every year Elegance 4my Event! sponsors 4-6 charitable events. Sponsorship is typically done in the form of providing chair covers, linens and napkins for the event. If you have a large event that you would like us to consider being part of, please send an email to beyondelegance.4myevent@gmail.com with the following information.

1. The organization must have a 501 (c) (3) status. As a part of the application procedure, the organization must include:
(a) A copy of the tax-exempt letter from the IRS under section 501(c)(3)
(b) A copy of the letter establishing that the applicant is not a private foundation.
2. Applications for sponsorship with all support material must be received no later than December 1st, 2016.
3. Form letters will not be considered.
4. There will be no limit on the amount donated to an organization.
5. Any organization must be established for at least 2 years to be considered for sponsorship.
6. Include the event name and location.
7. Include how many years this event has previously been held.
8. Include previous attendance and estimated attendance for this event.
9. Include a contact name and number should additional questions arise while reviewing submissions.

Please note that submissions without all the required information will not be accepted.
All 2017 submissions must be made by December 31, 2016. All submissions will be reviewed and winning events will be announced on March 10, 2017. While we would love to participate in every event, it is not always possible. We do suggest you submit a request no matter how the size of your event.
---
Color Consultations Available!
---
The Elegance 4my Event! team will mix together every detail of your inspiration and vision with our unique design concepts, blending the two together with originality and flair to produce a customized theme and décor plan. Designed for couples that love to plan, yet have a "sweet tooth" for innovative, inspired design concepts that only Elegance 4my Event! can provide.

By utilizing a thorough Elegance 4my Event! "analysis" process, we will develop a unique wedding design for you incorporating elements such as color, texture, dimension, theme, and personality.

Design will allow for a cohesive feeling for your entire event. We will offer suggestions for stationery favors, florals, ceiling draping, linens, table setting, chair covers, special entertainment, uplighting, decorative touches, dance floor décor, etc.

Design will be creative using actual real life samples of design elements. We want you to see and feel your design so that you have confidence in your choices.

We will create a table setting for you, displaying your florals, linens, chair covers, tableware, lighting, stationery, favors, etc.